Wow. I can't believe that it's been an entire week already that Al has been home. How crazy is that? Time sure does go fast when you're not counting it - lol.
We sure hope everyone is doing great - almost everyone should be home or is already home from the the 155 BCT - YAY! I know that it is a good feeling for everyone to not have to worry constantly, wait for the phone to ring or everything else that goes along with a deployment. I am sleeping through the night now and I am no longer married to my computer or the phone - but I have a real, live husband in my house which is wonderful and scary all at the same time. Transitioning from a deployment to being a full time newlywed sure is INTERESTING to say the least - not to mention the fact that I am a terrible control freak to boot. Yikes. Poor Al! It's a good thing he's the most laid back person on the planet!
Everything else is going wonderfully - and we are so happy to be together. Things went great with homecoming and our contact for Al's unit (Sergeant Errington) did an awesome job communicating everything about their arrival. I also was super blessed because two ladies from my Yahoo 155 Board got their hubbies home on the exact same flight as Al - and that meant that we could meet one another and talk before our hubbies showed up - which was a wonderful way to pass the time. Al's mom, Judy, was also able to bring Al's son, Trey, down - so that was super special too. I am really happy that they got that time together. Since I knew I would be trapped down in a hotel next to Camp Shelby for several days, we had Em stay at home with her dad - but, she was thrilled to see him this week.
Demob took several days, but it was a pretty easy process overall. It took us four days to demob - and now we will have a few things to iron out with the VA at the end of the month. Al has done an amazing job so far this week getting things set up - he is definitely a go getter!
I will post just a few pictures of our homecoming for you. Thank you to all of you again for everything!
Tammy & me before our hubbies came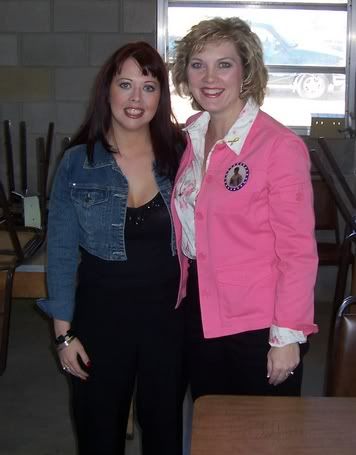 Deb, her beautiful children, Tammy & me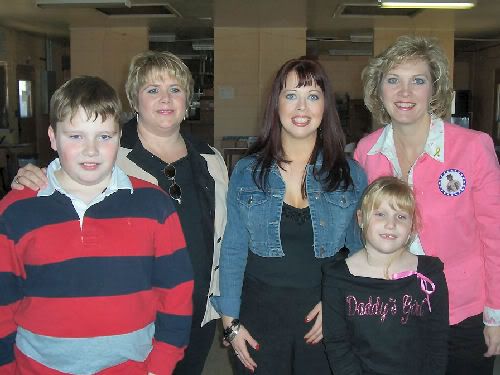 Mama Judy & Trey (they provided games for the kids to play with - that was a nice touch)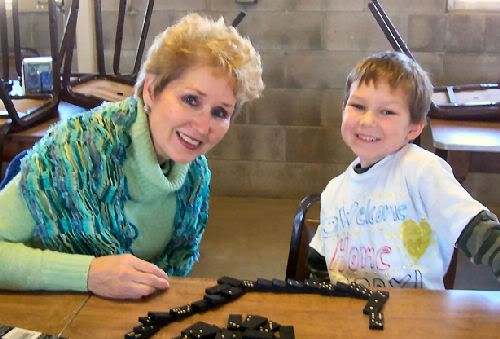 Trey & me (we made his t-shirt together at Xmas - it says, "Welcome Home Daddy - Love, Trey"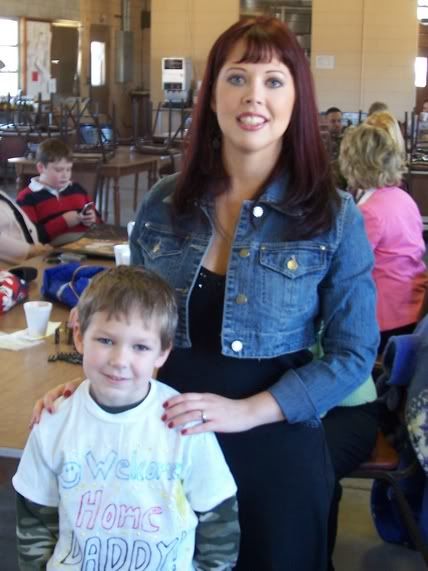 Everybody is waiting for their soldiers!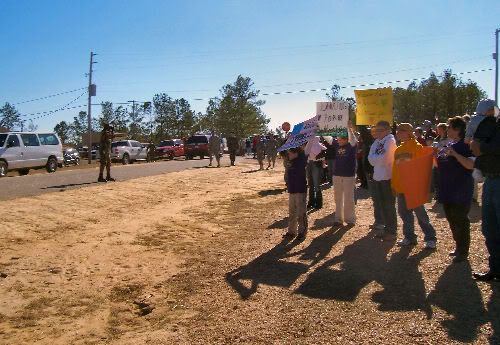 Mama Judy, Trey and me right before Al came.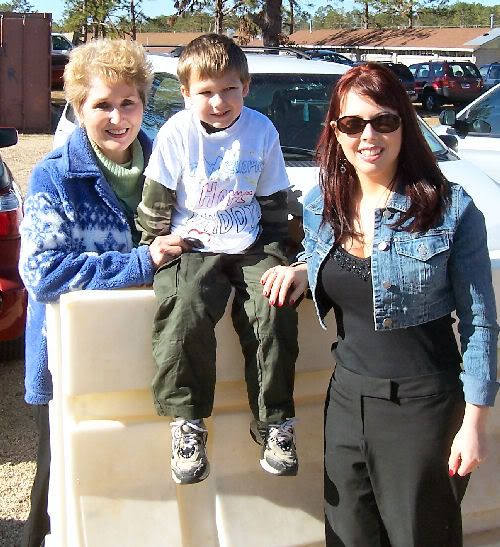 Deb's hubby snuck up on her even before the buses came!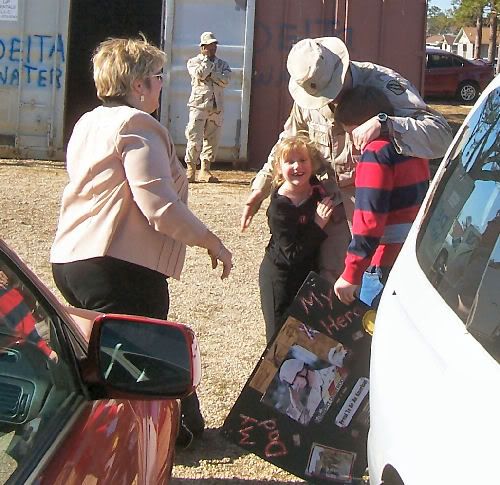 Here come the buses!! Oh my GOODNESS!
Tammy's hubby was the first one off the first bus!!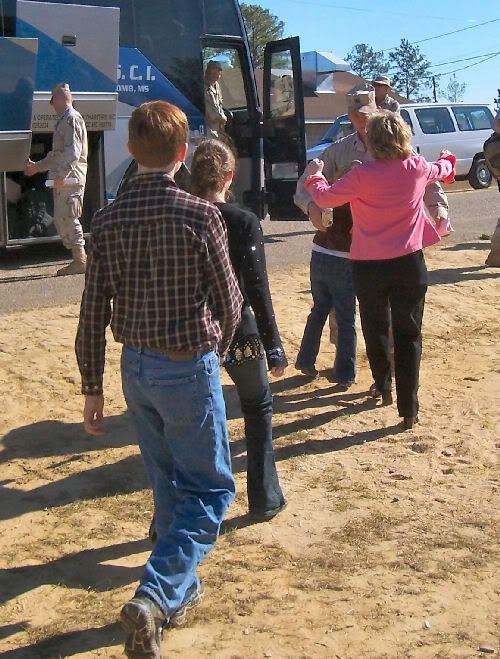 Here comes Al! He sees us!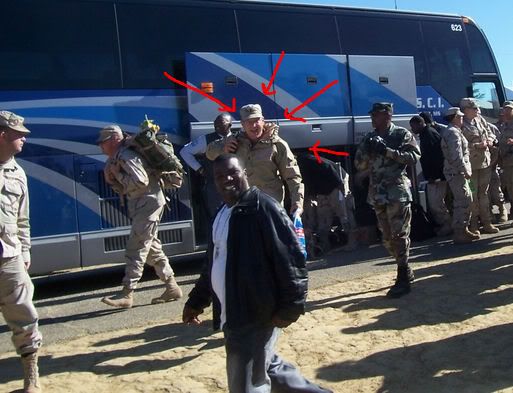 Trey ran up to Al and gave him a HUGE hug.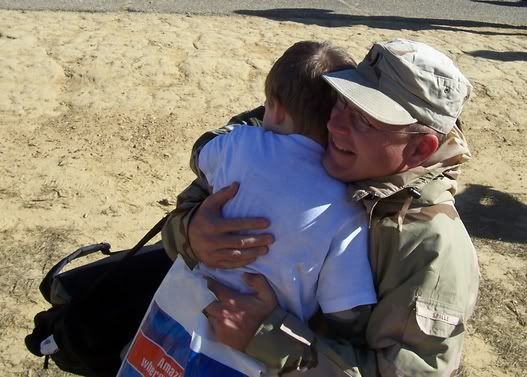 Al, Trey and me after Trey let him come up for air - lol.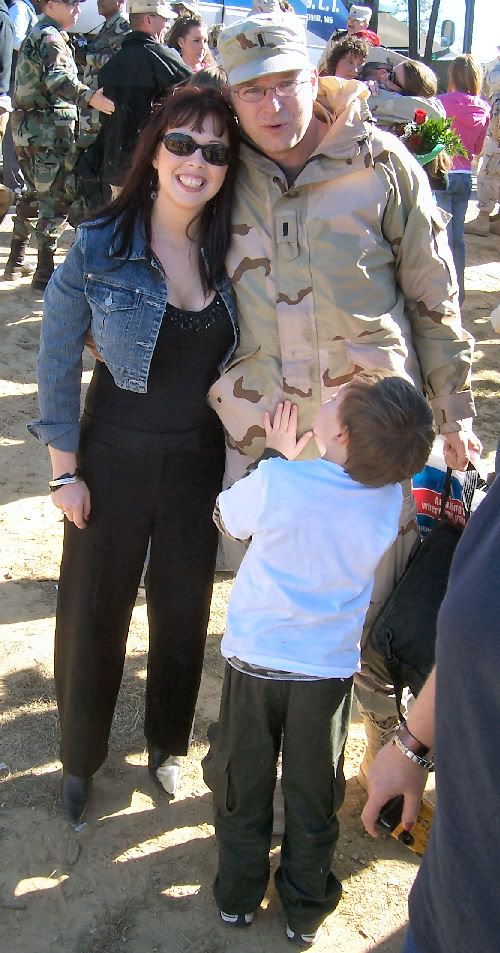 All of us together - so happy for for our soldier to be home for GOOD.