Hey everybody! I know that we totally fell off the face of the earth when Al came home - and I want to apologize for that. When you are National Guard and your life has been on hold for soooo long - all you want is for things to go back to 'normal' as much as possible when your soldier comes home. Al and I have been immersed in 'normal' - working, kids, church, etc. - since last January. We moved back to Jackson, MS and in May we will have been here for a year - time sure does fly fast when nobody is deployed - lol!!
Anyway, I got a super neat surprise in my email inbox yesterday when Mr. Paul Nichols emailed me and asked if he could include a caricature that he had drawn of Al and me on his website. I absolutely loved his drawing and I of course told him "YES"! I just wanted to let all of you know about his site also - because it would be a wonderful way to remember your soldier's homecoming - or any other special events that you might have.
Here's his drawing of us: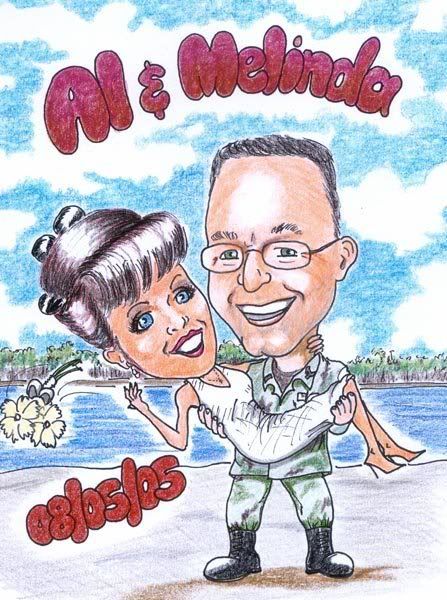 And here's his AWESOME website!
http://www.pnichols.com/caricatures.html