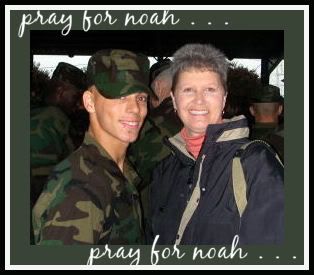 Please pray for
"Some Soldier's Mom" and her son, SPC Noah Pincusoff
. She received word yesterday that Noah was "injured in a
VBIED attack
... a serious spinal injury... being operated on in Iraq". Her blog has been a source of inspiration to me personally - and you can just see her love for her son in everything that she writes. My friend,
Stacy
, called me about this last night - and she is so upset about it. War gets very personal when it affects someone that you know and care about. All of us in the Milblog community wrap our loving arms of protection around Noah and his family right now - and we will get through this together.
--------------------------------------------------
On a personal note, Al has made it back to Iraq. He is not back 'home' to his FOB yet, but I don't think he minds too much. Where he is staying right now is quite a bit ritzier than his location - he emailed me and told me that he is going 'swimming in the pool' a little later today - lol. It was so good to get his phone call yesterday at work - and he had me laughing and grinning from ear to ear as usual. I love him and I miss him so much, but I'm glad to know that he is back where he needs to be right now.