I am writing this post a day early . . . my family and I will be traveling to my brother's lake cabin in Devils Lake - and so far the weather report looks favorable. I actually snorted as I packed swimming suits into Emelia's and my luggage - but it looks as though we might actually be able to wear them after all.
In a way, I'm pretty disappointed in myself that I won't be able to attend a Memorial Day Ceremony or anything - it's funny because a year ago, I don't really know if Memorial Day would have meant anything to me at all. And now, with my "eyes wide open" it means everything to me.
I guess the purpose of this entry is to ask you - and to challenge you . . .
"What Does Memorial Day Mean to You?"
When I was growing up, I remember being in the Girl Scouts (or Brownies, more specifically) and marching in a Memorial Day parade - I think I remember doing the same thing when I was in High School Marching Band. I always remember the older WWII and Korea veterans with their paraphenalia and stuff . . . but beyond that, I don't remember a thing about Memorial Day.
It seems like almost everybody uses Memorial Day as a time to go out to their loved one's graves and clean them off - and put out fresh flowers - and I have to say, that the cemetaries we have driven past in the last couple of days - have looked great, the flags have been flying high, the grass has been cut, and you could tell that someone (or someones) was really going out of their way to honor the Veterans who were buried there.
I have mentioned before that Al has been adopted by a group of people at a veteran's hospital out of New York. Cindy, one of the technicians at the lab, emailed me last week and told me about this absolutely amazing event that they were holding last Saturday, and I saved it for my Memorial Day blog entry.
The event was called "Echo Taps", and the purpose was to raise awareness that there has been a gradual tapering off "real bugle playing" at veteran's funerals of "Taps". Instead, it is often a pre-recorded cassette tape rendition --- a pretty pathetic recognition of someone who at sometime spent a decent chunk of time away from their family and their country defending our freedom!!
Echo Taps consisted of 800 buglars spanning 41 miles from their two military cemeteries, each 80 feet apart and playing Taps in three note succession. It had never been done anywhere before. They had players ranging in age from 11 years old to 87 years old - and players came from 21 different states to show their support.
Cindy and "The Gang" (as I call them) had also volunteered their time to help supervise some of the veterans from the hospital so that they could attend the event and ceremonies. I know that really meant a lot to those guys to get to be a part of all of that.
The pictures from the event speak for themselves, and I think that it's wonderful that the veteran's decided that they were tired of boombox honoring our nation's fallen heroes.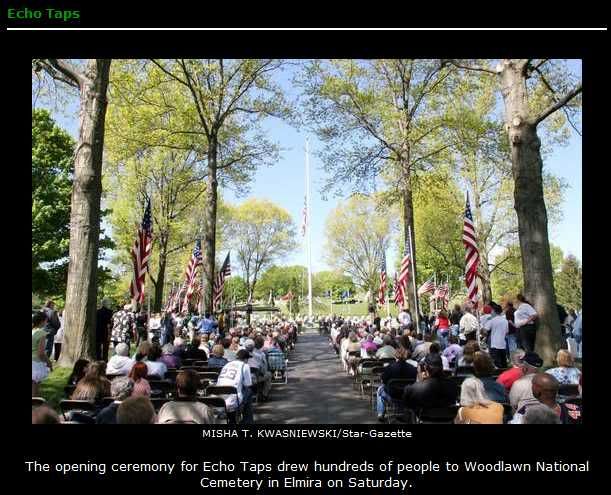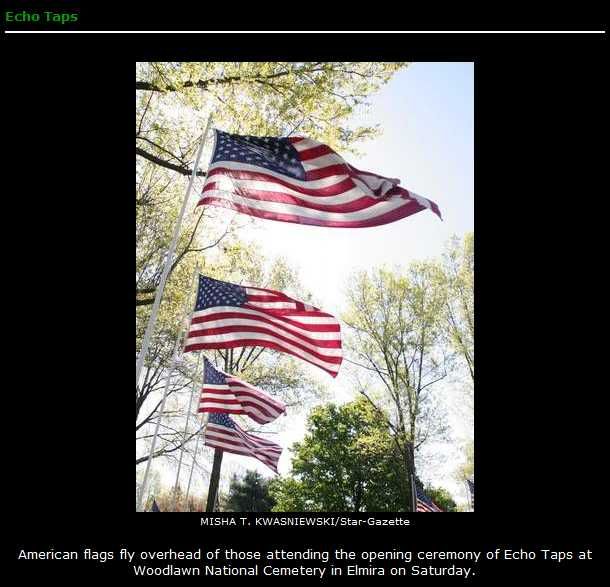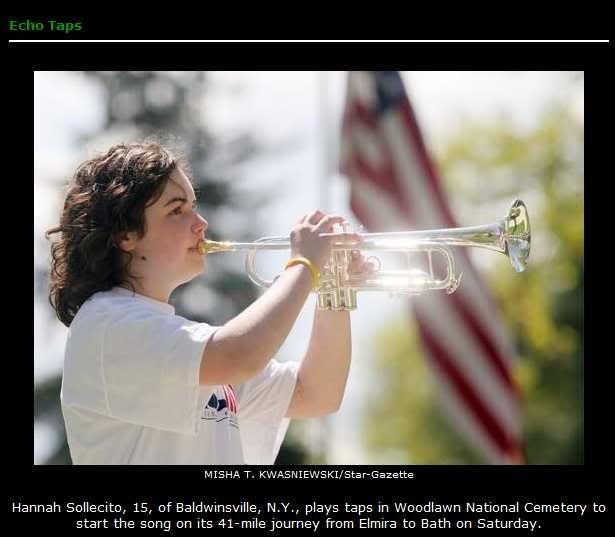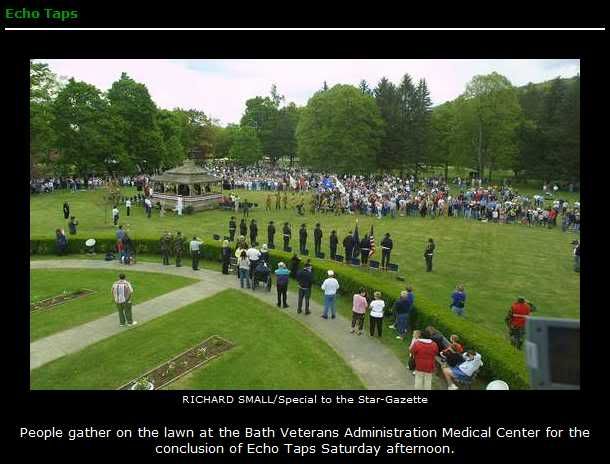 Here are some links if you are interested in further details! :
http://24notes.org/
http://24notes.org/BuglerNews_Articles/Articles_Pages/Echo_Taps.html
(tons of news articles!! really good!)
Finally, tomorrow, please remember that you aren't just getting a "freebie" day off, Memorial Day honors the men and women who have died in military service to the United States -- so please, if you do have the opportunity, make the effort to attend a Memorial Day Ceremony in your local community. I know that I won't be on vacation next year - and that it will be something special for Al, Trey, Emelia and me to be able to do together as a family once Al is home for good. Operation Iraqi Freedom may not be especially popular with some Americans, and with today's 'modern' conveniences, the sacrifice that Al and I are facing is N.O.T.H.I.N.G. compared to what Veteran's in other wars/conflicts dealt with, but now that I have tasted what 'sacrifice' for one's country really means, I can tell you that I won't ever be callous in my treatment of Memorial Day ever again.