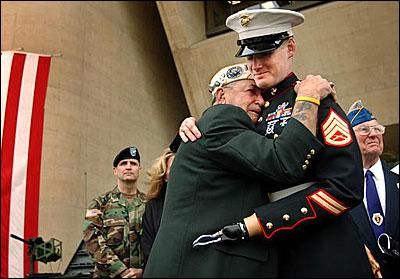 The occasion of this photograph was a Veterans Day Commemoration at Dallas City Hall on 11 November 2004. The veteran pictured is Houston James, a survivor of the Japanese attack on Pearl Harbor in December 1941, and the Marine is Staff Sgt. Mark Graunke Jr., a member of an ordnance-disposal team who lost his left hand, one leg, and an eye while defusing a bomb in Iraq in July 2003.
------------
I know that I appreciate the sacrifice of the military so much more because of what I have gone through with Al. But, I really feel that only one Veteran can really fully relate to another Veteran about the ultimate sacrifice that it takes to be in the military. I was listening to a survivor of Blackhawk Down on the radio in Birmingham this week - Keni Thomas - who is now the lead singer for the band, "Cornbread" - and he said that he didn't know why he felt compelled to become to become an Army Ranger when the first Gulf War hit - other than that his dad had been a Ranger - and that he just felt like he needed to do it.
http://premierespeakers.com/2161/index.cfm
Thank you to all the men and women in all times and in all places who have "felt like they needed to do it" -- we who are free are forever in your debt.