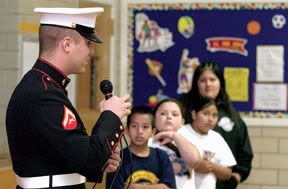 CHIEFTAIN PHOTO/CHRIS McLEAN
Marine Lance Cpl. Ryan Landreth answers questions
while several Bradford Elementary students wait to ask
more questions during his visit to the school Monday morning.
Pueblo Marine returns to hero's welcome
Tuesday May 10, 2005
Bradford Elementary students meet Ryan Landreth, a double Purple Heart recipient they adopted while he was fighting in Iraq.
By GAYLE PEREZ/THE PUEBLO CHIEFTAIN
Diana Peregrino couldn't wait to go to school Monday. It was the day she finally was to going meet her hero Ñ Lance Cpl. Ryan Landreth.
"We've had it on the calendar that he was coming. I couldn't wait to meet him," Diana said, moments after Landreth had finished speaking to the Bradford Elementary School student body.
Bradford's fourth- and fifth-grade students adopted Landreth, a Pueblo native and 2003 Centennial High School graduate, while he was stationed in Iraq.
The students wrote several times to the young Marine, informing him of everything from how the weather was in Pueblo to who won the Bell Game.
There also were the questions:
*What Landreth was doing in Iraq?
*What did he eat?
*How did he spends his days?
*What was it like to be involved in war?
Unable to answer all their letters, Landreth promised the students that when he returned to Pueblo he would visit them to answer their questions.
On Monday, Landreth, who has been awarded two Purple Hearts, fulfilled his promise by making a visit to the East Side elementary school.
Landreth returned from a seven-month tour to Iraq on April 7. Two weeks later, he surprised his father, Robert Landreth, by coming to Pueblo where he has been spending his days relaxing and sharing time with his family, including his mother, Raeann Parlapiano.
He is scheduled to return to duty at Camp Pendleton in California in two weeks.
"I want to thank you very much for the letters," Landreth, dressed in his military blue uniform, told the Bradford students on Monday. "Whenever I would get sad or lonely, I would open up the letters and it would make me happy." "Is the food good? I've hear that it's not that good. I'm really picky on my food. I can't eat anything except my mom's food or else I feel like I'm going to gag," Diana wrote.
What he ate for dinner, if he had a best friend, did he have a washer and dryer in Iraq, where did he sleep and what was the weather like were common questions the students frequently asked Landreth.
"I ate chicken probably every night. We could eat the MRE's (meals ready to eat) but I usually ate what they had. That's all they had was chicken," Landreth told the students.
As for other questions, Landreth said the soldiers washed their clothes in buckets of water; his best friend was a soldier who was part of his gunner team; he slept in Iraqi homes at times but mostly in the field and the weather was cold, especially at night and the sandstorms were fierce.
"Do you have a teddy bear so that when you're scared you could hug it? When I know my mom isn't home I get scared so I go to my parakeet for comfort. He is very dear to me. You are a bold young man," Diana continued
Twelve days after he arrived in Fallujah, Landreth, 20, was on his first excursion away from his camp when a roadside bomb exploded and struck the truck in which he was riding.
A piece of shrapnel hit Landreth in the right arm. Though the explosion briefly knocked him unconscious, Landreth suffered only minor injuries.
Three weeks later, the young machine gunner was traveling along the same route in a Humvee when another roadside bomb exploded. Landreth was hit in the back of the neck and again knocked unconscious. Luckily, the shrapnel did not go deep enough to cause serious injury.
Landreth returned to his squadron and went on to participate in the assault on Fallujah, but not before being awarded two Purple Hearts for his injuries.
"This is a Purple Heart ribbon," Landreth said as he proudly talked of the medals pinned to his uniform. "This is awarded to soldiers who are injured in combat. I was injured twice but instead of wearing two ribbons, I wear one with a star." "It must be difficult to see people die, especially loved ones. When I hear that someone has died my heart starts beating fast," Diana told Landreth in her letter.
The two explosions that Landreth survived were not his only close calls while serving in Iraq.
"The first few weeks were rough but then it only got worse with the assault on Fallujah. We were involved in several firefights. I had a lot of good friends that died," Landreth said during an interview following his talk with students. "I'm lucky. I have two Purple Hearts and I'm still alive. This definitely has been a life altering experience for me."
When a student asked Landreth if he was ever scared, the Marine didn't hesitate to answer.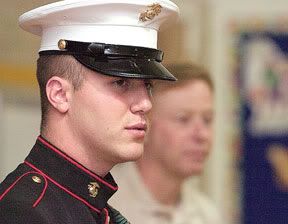 CHIEFTAIN PHOTO/CHRIS McLEAN
Marine Lance Cpl. Ryan Landreth listens to questions from
Bradford students, while his father, Robert, stands in the background.
"Absolutely, I was scared all the time," he said. "When we went to Fallujah, we were all scared. Everybody is scared in their own way, we all just express it differently."
Landreth told the students being in combat is nothing like what they may see in the movies.
"The first time I was in a fire jfight, I remember that I couldn't hear anything, but then you sort of get tunnel vision. That's when the training kicked in and you just do what you have to do," he said. "I was totally afraid. I could hear my own heart beat while I was running." "Hang on there. I know you're strong. When you get here you'll be filled with appreciation from here. Hopefully the firecrackers will sound when you arrive. The flag will hang over your head for courage and appreciation," Diana said.
"It's awesome to meet a soldier who actually was in Iraq," said Bradford 12-year-old Shayna Eaton. "I think he's a hero for what he is doing for all of us. I will never forget him."
James Reyes, 11, said Landreth has inspired him even more to follow in the young soldier's footsteps.
"I think it's cool and I especially think soldiers are cool," he said. "I want to some day be like him or maybe like a Navy SEAL. He's a hero to me, just like my dad."
While the students were in awe of Landreth, the young soldier was equally impressed with the gratitude of the students.
"Thank you for all you did while I was over there. You are the reason we are over there fighting."
http://www.chieftain.com/metro/1115733611/2