Well, I got my wake-up call from Al at around 5:30 this morning - I really should have had my tushie out of bed before then - so I ended up a "little" late to work - whoops. It was really cold this morning - and I had to warm my car up - I'm also going to see Al's mom for the weekend - so I had to get all that stuff loaded up too.
Al is doing good. He may stay where he is at - or he may go to where he was supposed to go originally. He finally got to be a nurse again today - and work at the TMC (Troop Medical Clinic) - so that was exciting. They told him that they should also have mail in "a couple of days" - they have to move it from one place to another - which makes me really happy - I hope gets some in time for his birthday on Monday - my baby will be 38 on Valentine's - awww!
Let's see, the 17th marks the first day of the Islamic month of Muharram - and Ashoura (the 10th of Muharram) is the holiest day of the Shiite Muslim calendar. It marks the death of Imam Hussein, the grandson of the prophet Muhammed (680 AD) - he was beheaded in Karbala. There were lots of bombings last year during this time - over 180 people were killed in attacks at Shiite shrines. They are already starting to seal off borders again. I feel bad for the Iraqi people that things have to be this way. It's got to be really hard to have somebody take over your country and tell you where you can go and stuff. We as Americans can't even really fathom it. My prayers are with the Iraqi people during this most holy time.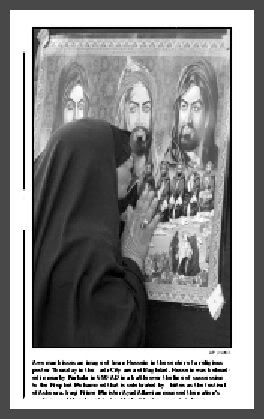 The woman in in this picture is kissing a painting of Hussein. It's an AP picture - but was in Stars & Stripes - I couldn't find it anywhere on the Net - so, I want to give them credit. The picture is dated 2.10.05.
Hmmm, I read a neat thing about Denzel Washington today - I got an email about it - and I didn't know if it was true or not - but it is. He pretty much rocks:
http://www.snopes.com/politics/military/denzel.asp
Hope everybody has a happy weekend - I will catch up with y'all on Sunday - maybe Al will have gotten his mail by then!