Well, I have been wanting to find a way to document the journey that Al and I have taken since August when he was deployed as a medical officer (nurse) with the 155 BCT - and I guess that an online blog is the best way to do it. I already have a big binder full of articles and stuff like that - but I hope that by using this outlet - we will be able to have another record of his 'adventure'.
Al has done a lot since August - he was in training at Camp Shelby for a while - and did everything that went along with that - a land nav course, gas chamber, night vision, etc. Then he went to a Combat Casualty Care Course in Texas which was very intensive, which was followed up by almost a month at NTC (the National Training Center) in California. We got to spend 10 wonderful days together at Christmas - and he left for the sand on January 8, 2005.
Yesterday marked a full month that he has been there. He was at Camp Buehring in Kuwait for almost the entire month. I was really worried that he would be in Iraq for the elections - and he was supposed to be - but "Army Planning" took care of that one for us. I think that's probably the only time that I've ever been thankful for an Army delay!! ;-) The nice thing was that there were no troops lost as a direct result of the elections - I believe that 35 Iraqi's were killed though - which is sad - I read a story about a suicide bomber who tried to attack a line of people waiting to vote, but he only ended up blowing himself up - nobody else was injured. People spit on him as they walked in to vote.
Al is now at an undisclosed FOB (Forward Operational Base) in the Karbala area. He's not at his final destination yet - but he'll probably stay where he's at for a little while again. As long as he's safe, dry, well fed and content - I'm happy. He said that the food is really good at his current location - the best that he's had since he's been over there (it's also contracted out to a private company, so that's probably why - lol!). He was able to buy a "SPAWAR" phone card (only 4 cents a minute - take THAT, AT&T!), and we talked for a bliss-filled 45 minutes this morning. I knew I was going to be late to work - but I could have cared less!!
He was so sweet on the phone. We were saying all the typical lovey-dovey stuff and then he went on to tell me about his journey 'north'. He said that Iraq is VERY third world - and I said, "Well, duh!" He said that it's very agricultural in the sense that people really do have to utilize the land and nature to survive. He said that he saw donkeys pulling carts - and all kinds of livestock. He said that the people are unbelievably poor - that adults and children just run to the roads when they're driving by - rub their tummies and point to their mouths and say, "food, food". I'm going to put together care packages of hard candy and craft kits for Al to be able to pass out. I know it's not much, but it's something.
Since he's not at his final location yet, he still hasn't gotten any mail - but by reading the 155 sites, I've found out that mail trucks have started pulling in at lots of the locations. His conex is all ready for him when he does get where he's going - and his fellow medical officers have already been setting aside equipment and supplies for him for when he gets there. I'm really excited for him to get his first three care packages that I sent him. I'm going to hold off for another week to send him anything else - although I try to send him a letter almost every day. On the days that he was 'in transit' - it really helped to still be able to talk to him on paper.
I got pretty spoiled once he was settled into Kuwait - he called once a day - and we could email back and forth - so when he was on his convoy into Iraq, it was really hard to go without hearing from him again. By yesterday - Day Three of no communication - I knew that I should have heard from him already - so I was getting kind of edgy. Last night, I went to write him his daily email - and I was in such a terrible mood - that I couldn't send him one. I went to go to sleep - and I felt really bad. Here I am, with a comfy house to live in, clean sheets, my daughter Emelia to keep me company - and I'm in a bad mood because I can't talk to him? Give me a break!! I hauled my hiney back to the computer and typed him out a nice email. I often make myself think about WWII and Vietnam wives whenever I start feeling bad - I remind myself that even if I don't know where Al is - God does - and that helps. In the modern day military, we actually have it really good and I need to remember that.
Okay, I'm going to close and get to work - here's the only picture that I've gotten from the sand so far: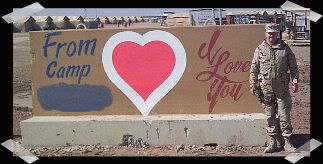 I used Paintshop to fuzz out the name of the camp - just so you don't think the sign has graffitti on it :-)