"Support"
Main Entry:
support
Function: noun
1 : the act or process of supporting : the condition of being supported

2 : a means of obtaining the necessities of life (as food, shelter, and clothing) : a source of livelihood esp. in the form of alimony or child support
3 : something that provides support

I have been thinking about this word a lot lately. About the it's true meaning – I have gotten to really see it played out in my life – and more importantly, Al's life, in a huge way. After he finally got to "Sand Land" – I decided to sign him up for a couple of support organizations – not really expecting anything exciting to happen – I just thought that he might get a couple of letters – a box or two – I just really wanted him to get stuff people other than me – and other than his mom - that would show him that people care about him.

Well, all I can say is WOW. A big, huge, gigantic WOW. I want to tell you a couple of things about the organizations that I signed him up with – in hopes that if you have a deployed soldier – that will you sign them up too ---- it has been a wonderful stress reliever for Al to be able to get emails and letters from "general Americans" telling him that he is supported (there's that word again) and cared about.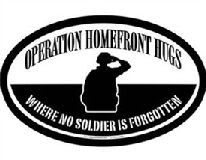 The first organization is HOMEFRONT HUGS www.homefronthugs.com – their link is in the 'support' section on the right of our blog. This organization is run by an amazing woman – Alessandra Kellermann – and their motto is "Where No Soldier is Forgotten" – they offer adoption for not just the soldier – but they are also willing to adopt the soldier's family too.

We have been adopted through Homefront Hugs by a great group of "labatorians" who work at a Veteran's Medical Center in New York (not New York city – a pretty part of the state of New York) --- their names are Dave, Jack, Helen, Theresa, Barb, Deb, Mary Jane and Cindy. Cindy is the coordinator of their Homefront Hugs activities and she is super sweet. She has sent several emails to both Al and myself – and even her hubby has taken the time to email Al – he has really enjoyed that. We really appreciate their kind words – and just their willingness to reach out to us as a military family. We really look forward to developing a relationship with our adopted family over the next year.

Here's a picture of them: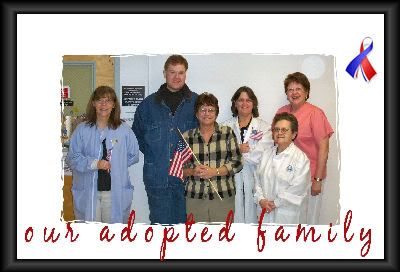 From left to right – Helen is in the blue labcoat, Dave is in the back, Theresa is wearing the checked blouse, Barb in the white labcoat in the back holding a flag, Cindy is wearing the peach scrubs, and Mary Jane is right up front (and looks to be about my height – I'm 5'1" :-).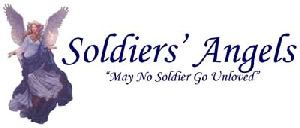 The next organization is Soldier's Angels. www.soldiersangels.com – This is also a great group – Al has already gotten a ton of letters from people – which is a great diversion for him – he has retired Army personnel writing to him and everything. He loves it. Yesterday, while I was at work, I got a text message in my email from somebody (A Soldier's Angel) who wanted to send Al a package and wanted to know some things that he needed --- I decided that calling her back would be a lot quicker than 10 text messages back and forth – and I ended up having a really neat conversation with a mom named Alli who lives in Florida – I told her a couple of things that Al needed – but she was SO SWEET when she ended the conversation – she has both her church and her bible study praying for Al by name – and I told her that most of all – out of anything that we appreciated that the most.

So, I am here to tell you that there are still some great people left in this world. People who care about our soldiers – and especially about our deployed soldiers – who understand that they are trying to good some good in Iraq – and who want to support them individually – and their families too.

Support means many things to many people – to me, it means knowing that I don't have to take care of Al (and the guys that he's with) all by myself – I have Dave, Jack, Helen, Theresa, Barb, Deb, Mary Jane, Cindy, Alli – and a countless host of other people standing behind me in prayer and concern. Blessings to all of you – you have no idea how much your efforts mean to both Al and to me and to our families!! Thanks for making these days of deployment much brighter!