Wow. I am so ready to sleepy sleep it's not even funny. It is 1953 here - 0653 there. My bunny bear just called me - he is so sweet. We got to talk for 30 minutes. It was wonderful and blissful and awesome. He said he slept really good last night.
I spent my evening watching the OC and the Apprentice - and doing this: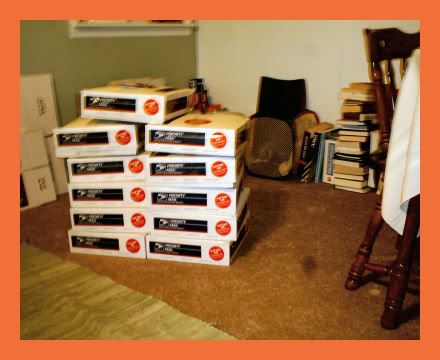 Yes, those are 11 boxes. No, they are not all for Al! His church, Parkway Baptist, got together and Sunday School classes donated stuff for the guys that Al is with. So, in addition to Al's boxes, I packed up six boxes for them. I'm sending a pile of Al's books from nursing school - because there are a bunch of people that want to take classes on medical stuff. I'm also sending seed starters and, of course, Al's ninety nine financial magazines that he subscribes to - lol!!
Sending a shout out to: Major Weaver, Major Giese, Captain Winton, SSG Spikes, Specialist Davis, and 1SG Feazell ---> Your boxes will be on the way tomorrow.
Good Night!