Woot Woot!! We made it through another 10 days - yay!! Only about 32 more sets of 10 and we're all done - LOL!!
Al called at 1230 today - we got to talk for almost 45 minutes - it was so nice. He is safe - but we would like to ask your prayers for an unspoken prayer request if possible. Thank you!
For today's entry - I would like to send up a "shout out" to my friend Denise and her husband Tom. Denise is a June 2003 mommy just like me - and she has the cutest son, Jarrett. Anyway, her husband, Tom - was deployed during Jarrett's first year - and although he is home now - he may have to leave again soon. I just wanted to let Denise know that military community is supporting her and Tom and their kids.
Tom marched in the Bataan Memorial Death March today: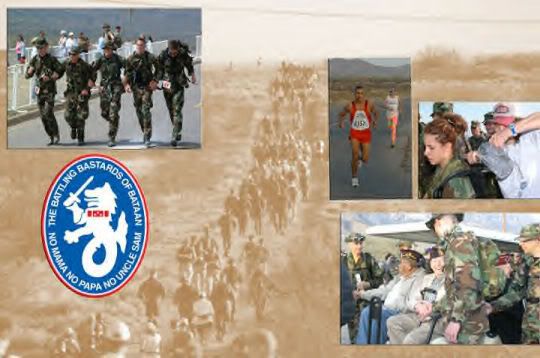 http://www.bataanmarch.com/
Test your endurance - Exercise your patriotism. The Bataan Memorial Death March is a challenging 26.2-mile march through the high desert terrain of White Sands Missile Range, N.M. This memorial march is conducted in honor of the heroic service members who defended the Philippine Islands during World War II, sacrificing their freedom, health and, in many cases, their very lives.
The conditions they encountered and the aftermath of the battle were unique. They fought in a malaria-infested region, surviving on half or quarter rations with little or no medical help. They fought with outdated equipment and virtually no air power.
On April 9, 1942, tens of thousands of American and Filipino soldiers were surrendered to Japanese forces. The Americans were Army, Army Air Corps, Navy and Marines. Among those seized were members of the 200th Coast Artillery, New Mexico National Guard.
They were marched for days in the scorching heat through the Philippine jungles. Thousands died. Those who survived faced the hardships of a prisoner of war camp. Others were wounded or killed when unmarked enemy ships transporting prisoners of war to Japan were sunk by U.S. air and naval forces.
I really respect Tom for doing the march - but I also respect his service and sacrifice to our country as a whole. Thank you Tom - and thank you Denise!!